Private Ayurveda- und Thai Cuisine
From time to time we organize events in the sphere of the Secret Supperclubs Lüneburger Heide to get to know new people, such as blind-date or "Heide Single" meetings. Please refer to the announcements in our
event schedule
.
The Secret Supperclub Lüneburger Heide sees itself as private club for promoting intercultural convergence. We would thus like to introduce you into the culinary world of our private Ayurveda & Panchakarma and Thai cooking workshop.
Apply for a Supperclub dinner here!
Ayurveda Cuisine
One of the centrepieces of the holistic health system Ayurveda & Panchakarma is dietetics. Adjusted to one's physical constitution, appropriate foods ensure to arrive at a healthy body's and soul's state of equilibrium. If you are interested in balanced diet and Ayurveda or Panchakarma respectively, you will certainly be enthusiastic about our Ayurveda cooking workshop.
Thai Cuisine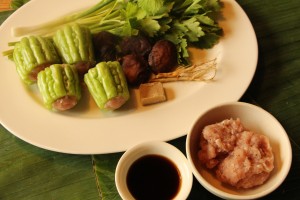 The Thai cuisine is one of the world's best. It is exotic, fancy, piquant, and leaves much leeway for creative cooking. The Thai cuisine wonderfully suits testing, experimenting, and improvising. Besides, it is very healthy. If you can get enthusiastic about a healthy diet and exotic meals, you will definitely love our Thai cooking workshop.
Favourite Dishes
Most people start to rhapsodize when they think of their favourite menus since we often associate a pleasant experience with our favourite dishes, a celebratory meal for the soul. All professional and amateur chefs have their own association in their minds when they make their favourite dishes. New variations of old classics evolve from individual imagination this way. Our guest cooks thus are welcomed warmly to present the creative realization of their favourite dishes, no matter whether exotic, international, or German menus, to the Secret Supperclub's "conspiratorial" participants.
Would you like to cook your favourite meal with us? Here you can contact us.
Enjoy your private dinner at Secret Supper Club Lüneburger Heide with your friends, acquaintances, neighbours, or, as special experience, as blind-date cooking event with unknown people.
Our Special Quality
The special thing about Secret Supper Club Lüneburger Heide is joint cooking in two or three-man teams. You learn about Ayurveda or Thai cuisine and at the end, as highlight of the event, the meal so prepared is enjoyed together. Laughing and (when chopping onions) crying together, meeting friends and find new acquaintances—this is what the private Secret Supperclub Lüneburger Heide means!
The events take place in private ambiance and target at small groups of 8 to 18 people happy to try out new things (minimum number of participants is 8).
Also, you can combine your cooking adventure with a brief vacation, for example from Thursday/ Friday till Sunday. Good value quarters can be found in direct neighbourhood.
Infos: www.sagasfeld.de and www.land-kamerun.de
Spare time activities: Beauty, massage, riding lessons, horseback rides, etc, or simply relaxing.
Tip: The Ayurveda wellness village Sagasfeld offers Ayurveda and Panchakarma cures.
Notes on the procedure: Dates, times, location, menus, and donation amounts of the event (Ayurveda or Thai cooking workshop) are announced by e-mail (circa 1 week before the event). We reserve the right not to confirm the dates of events or cancel them, also.
Could we whet your appetite for a culinary experiment? Then get in touch with us! You can contact us here.

All events taking place in the sphere of the Secret Supperclub are organized privately and conducted without any intent to realize a profit.