All fans of the supperclub idea share the joys of a good meal.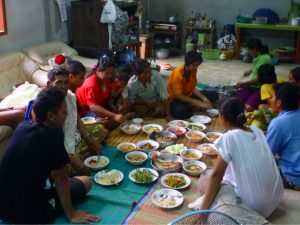 This is true for us, also. We like to be with others who take pleasure in Thailand's fine, exotic art of cooking or are open to the healthy Ayurveda (& Panchakarma) cuisine. On our journeys, we made the experience that an invitation to dinner with unknown people quickly broke the ice and that strangers disguised themselves as warm and kind people rich of own interesting ideas and stories. A wonderful experience which we can now finally share with you by means of our Secret Supperclub Lüneburger Heide.
If you would like to get to know us and probably yourself into a culinary experiment, you can apply for a Secret Supperclub dinner with us (contact us, by e-mail only). Also, you find more about the goals of this supperclub or the idea behind the Secret Supperclub Lüneburger Heide on this internet site.
Probably you discuss my suggestion with your friends and acquaintances.
Yours,
Joachim Stehr
All events taking place in the sphere of the Secret Supperclub are organized privately and conducted without any intent to realize a profit.